Horseland News
Horseland is Closing.
10/31/2018 7:12:17 PM EST USA
Dear Horseland Players,
I'm writing to you with some sad news. After more than 20 years, we will be shutting down Horseland at the end of this year. Starting January 1, 2019, the entire website will be down. Players won't have access to any of their pages, animals, images, etc.
It was a really hard decision for our entire team. We've loved being part of this amazing community with you for so many years. As you may know, the main parts of the Horseland game use "Flash" technology. This technology is obsolete, and is no longer able to run on many devices. The future of gaming is in apps. But the cost to develop and run a successful app is prohibitive.
As you may be aware, the Horseland game started in 1994 when I was a girl. I was obsessed with horses and took riding lessons - but never had a horse of my own. I begged my parents nearly every day for a horse. It was then that my father, who was a computer engineer, helped create the original Horseland game for and (eventually) with me. It was how I learned to love computer programming, which I later studied in college and did for a career. The game grew from basic bulletin boards, to a very popular text and 2D image based game. In 2006 we partnered with a cartoon company. They made the Horseland cartoon that ran on CBS, and we updated the game to include 3D shows, the World, and player and horse avatars.
Special thanks to the ModSquad who helped make Horseland a real community!
Please take screenshots and download images of anything you might like to save after the website is down.
We will miss you and all our players.
Best Regards,
Christina
President of Horseland
Merry Christmas!
12/19/2016 9:22:13 PM EST USA
Jingle-jangle your way to the blue ribbon in our fun Christmas Jumping Show! Premium Players can start them until December 31st.

Merry Christmas!

Happy Halloween!
10/26/2016 2:32:17 PM EST USA
What do zombies, monsters and suspiciously smiling jack-o-lanterns have in common? The Horseland Halloween Show! Premium Players can start this themed jumping show through October 31st. Who makes the scariest show? Let us know in the Halloween post in the Announcements forum!

Happy Halloween!

Summer Contests -- Great Prizes!!
7/11/2016 8:53:55 PM EST USA
The Mods are at it again, they are organizing some really fun summer contests with great prizes! Hurry and check them out here!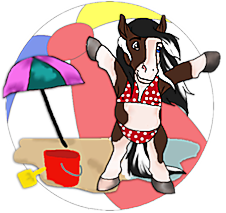 It Could Be Your Lucky Day!
3/6/2016 2:51:10 PM EST USA
Find a four leaf clover in the St. Patrick's Day Jumping Show! This is a limited edition show, only Premium Players can start them through March 17th. Everyone can enter, whether you're Irish or just wish you were!
Snow Fall
12/13/2015 EST USA
A big snow storm blew through Horseland! The Mystic Valley in the World is covered in a blanket of snow. Enjoy the holiday decorations throughout the World. And, like every year, the special presents are back! Keep an eye out for them scattered throughout the World. When they appear, ride up to them to see what surprise you get :)
Elf Pony Contest Starts
12/5/2015 3:00:00 PM EST USA
The Elf pony hunt is now officially open:) you will see our elf pony icons, all over Horseland. Make sure to write down these locations but do not share them with other players:) For more information on this contest, check the contests will be on this page
Holiday Contests!
12/1/2015 EST USA
It's Christmas season again! Last year we had so much fun with all the contests, that we are repeating them again this year. We'll start the events with Elf pony hunt and continue with many other contests throughout December until 5th of January! All the details about the contests will be on this page. Make sure you send a friend request, so you'll always know about the newest contests.
Back To School!
8/31/2015 3:22:11 PM EST USA
Around this time many of our players are returning to school, we wish them a great school year!
Some Payment Options No Longer Available
4/16/2015 10:23:16 AM EST USA
Hello Players, Please note: certain payment options will no longer be available from one of our payments provider. These include: MolPoints, "Pay With Gift Cards", PaySafeCard, Moneybookers, UKash, CashU, JCB, among others.Our payment provider has stopped accepting these. You have until May 15 to use any remaining balances. . We will continue to accept Paypal, check and money orders. Please let us know if you have any questions: help@horseland.com
Be My Valentine
2/11/2015 11:19:12 AM EST USA
Be sure to check out the Valentine's Day Jumping Shows, and if you are a Premium Player you can start your own! We hope you enjoy them. They are full of hearts, candy and extra love for our players. Last day to start a Valentine's Day Show is February 14th.
Holiday Contest - Thanks!
1/28/2015 9:38:42 PM EST USA
Here is a message from the Horseland Moderators, who organized such fun events and contests over the holidays:

"Hey guys! The Moderators hope you had a great time participating in our contests in December:) We learned a lot and hopefully we can use this to make our next contest even better. Thank you for being so patient while the prizes were given out (some still have to be, don't worry we haven't forgotten)!

We also want to thank HL Staff for donating 5 premium memberships and helping with all the contest preparations. December wouldn't have been half as great as it was without your help:)

We want to wish everyone a great year, may all your wishes come true!

Your awesome moderator team."

Thanks, Mod Squad! Did you all like these contests? Do you have fun ideas for future events/contests? Post your ideas here. We'd love to hear them.
Iphone, IPad, Android Users! Good News!
4/18/2014 9:40:09 PM EST USA
Good News. You can now use Horseland from a smartphone or Ipad. You just have to use the Puffin browser. The Puffin browser is available in both the Apple store and the Android store. And it is the fastest browser available. Unfortunately, the free version of the browser won't work, you will have to buy the $3.99 browser. Search for the Puffin browser in your smart phone store.
Winner!
12/15/2013 9:57:32 PM EST USA
The winner of our 3rd annual layout contest is Layout 3. Congratulations! Thanks to all who entered, we really enjoy looking at all the layouts. We hope this inspired us all to remember how important thankfulness is.
Bzuzu free games now can have up to 64 players
3/11/2013 8:19:44 PM EST USA
We have increased the number of players in free games to 64! Have a great time building your RPG games.
Bzuzu News
12/31/2012 9:21:14 PM EST USA
Everyone can make Bzuzu role playing games now! Basic players can make games for free with up to 16 members. Premium players can make games with up to 256 players. Have fun!
Introducing "Bonus Jump Days!"
7/26/2011 7:48:46 PM EST USA
We're giving away extra jumps to players who start shows on a "Bonus Day" - that means more money for show owners and more points for everyone!

Look for the new box titled "Bonus Days" on the Community page. Check that box everyday to see if today is a Bonus Jump Day! Depending on the day, Premium players can get up to 5 extra jumps on any show they create that day! Basics can get up to 4 extra jumps.

Bonus jumps will be added to any show created during the bonus day -- themed show or non-themed show.

Please note the length of a "day" is defined by Horseland time, so watch the official Horseland clock to find out how much longer the bonus jumps are available. This is probably different from the "day" in your life :)

We hope you enjoy!


New Web Site for RPG's: Bzuzu
2/19/2011 11:04:23 PM EST USA
We have an important announcement.

We are testing a new web site called www.Bzuzu.com . Bzuzu is a place to make your role playing games (RPG's).

We have noticed that Horseland players like to make RPG's for everything from wolves, cats, horses and their favorite vampire stories. While you could do that in Horseland, it was not easy to keep track of your members and stories. Bzuzu changes all of that. You can now easily create your own game. You can have official characters in your game, set up activities and rules.

Best of all Bzuzu shares the same login and players page with Horseland so it is easy to move back and forth from Horseland to Bzuzu.

We are still testing the game, but you can start to play. Please let us know if you find any bugs or if you have suggestions for the game. Thanks Horseland Staff.
More Points!
2/2/2011 7:23:56 PM EST USA
We heard your feedback about the number of points you can get in shows. We increased the number of points that the Holiday Shows give out: the Valentine's Day Show is the first one with the increased points. We hope you enjoy!
New Mini Game
11/19/2010 1:54:26 PM EST USA
We're happy to release a new mini-game today called A Mazing Garden! This is a fun puzzle game; we hope you enjoy this new way to earn Coins!

New Homepages & Designer Licenses!
6/29/2010 2:00:31 PM EST USA
Homepages went through some changes and there are now more options to customize. Check out all the new ways to customize your homepage from the new "Update" link on the top right of your Homepage. You can create themes that are used on all your pages: Homepage, Friends, Blog, Kennel and Stable. (You can always choose to display your homepage in the old style, where all your old layouts still work). All players also have a Blog!

There is now a new type of license: The Designer License. Designers can upload and sell their home page designs for other players to buy. Premium Players can buy the license from the General Store. Search for designs for sale from your "Update Homepage" page. All players can start by getting a free homepage design from Horseland.

We're really excited about all these changes, we hope you enjoy!

Jumping Show Feedback
9/29/2009 2:43:41 PM EST USA
When you finish riding in a jumping class, you can now send a comment to the show designer! Your compliment or other feedback is a great to encourage each other in course design, and maybe meet some new friends :)

Spreading the Love
9/11/2009 4:23:21 PM EST USA
Feeling nice, kind or generous? Maybe you just want to help a sister or brother out by giving them a little gift.

You can now visit your friend's horse and feed it! Just click on the "Feed Horse" button on the horse page. You'll also have the opportunity to send the owner a little note.

Look out for those starving & neglected horses too. Please feed them if their owners don't, before they get taken by the humane association.

Horse Trainers can Earn more Tickets!
8/11/2009 1:30:33 PM EST USA
We're very excited to announce that players with a Horse Training License can now earn more training tickets!

If you are a Horse Trainer: after you finish a Jumping Class you can choose to give your horse the points, or you can convert your points into horse tickets! (You earn your player points in either case).

Along with this change, there are some related updates to tickets & health:
- 1 horse or dog ticket is worth 30 points.
- Trainers start off with 40 horse tickets, or 50 dog tickets (sorry there is no way to earn more dog tickets at the moment).
- All existing horse and dog trainers automatically got 10 extra tickets today to make up for change in ticket value.
- Jumping shows affect horse's health. Each Jumping class will decrease your horse's health by a small amount (less than the effect of entering Automatic Shows).

Horse Trainers: this gives you more control of your training business. Invest as much time as you want into building up tickets.

We hope you enjoy!
Who says Unicorns don't exist?
7/20/2009 2:30:29 PM EST USA
By popular demand, Unicorns are back in the Store! All Unicorns bought from the store can breed with any horse and go for rides in the World. Also, all players can update their existing Unicorns to have avatars - so they can breed with any horse and ride in the World. We hope you enjoy this new feature!

We've received some feedback already about the color of Unicorns, what colors do you think Unicorns should come in? Please reply to the forum thread under "Announcements" with your opinion.


Enjoy Horseland with more real life Friends!
4/13/2009 6:04:00 PM EST USA
Invite your friends to Horseland and earn Coins! Send an invitation to your friend and ask them to join. You become their referrer. When your friend buy Coins, you get Free Coins equal to 10% of their purchase for free in the first year. Click the banner below.


Share Your Homepage
2/12/2009 5:43:23 PM EST USA
Share your homepage with your friends! You can now link to your Horseland homepages without being logged in.

This makes it easy to show off your layouts and personalized pictures.

Everyone has a unique link based on your player ID. Link: http://www.horseland.com/vownersd.hl?id=[your player id]

An example: if your player ID was "1234" then your link would be: http://www.horseland.com/vownersd.hl?id=1234


Avatar Pictures
1/21/2009 3:15:16 PM EST USA
Dear Premium Players,

Don't forget to upload your Avatar Picture! This picture gets displayed in all your forum posts and in your friend listings.

To get started: you can get a free avatar picture from sites like these: www.free-avatars.com or www.glitter-graphics.com

Even better are custom avatars! Check out the "Graphics" forum to find players who specialize in making graphics. There are lot of great graphic designers who could make you a cool avatar.

-the Horseland Team
Invite friends and get Free Coins!
12/5/2008 8:18:44 AM EST USA
Did you notice the "Referrals" number on your home page? It shows the number of new people you invited to start playing Horseland. Invite your friends to join Horseland! For one year after a new referral signs up, whenever they buy coins you get free coins equal to 10% of their purchase! If you refer a lot of people to Horseland that can add up quickly!

But remember, the new person must put your player ID in the referrer box when they sign up.
Click here Invite Friends or on the link on your home page for HTML code to place on other web sites so that people can easily join Horseland and automatically make you their referrer.


Make videos?
7/11/2008 5:03:45 PM EST USA
Make videos?
Send us your Horseland YouTube video links!

The videos can be of your horses, riding in shows, etc.

We'll review the links and then we'll post the top videos on Horseland!!

Send links to: help@horseland.com
Subject line: "Video"


Have fun!
Horseland Staff

(*Videos should not contain your last name anywhere)

♥ ♥ ♦♣♠♠♦♦♦♥ ♥ ♦♣♠♠♦♦♦
6/19/2008 5:42:56 PM EST USA
Hi Players! You will notice some special characters will no longer work in your player name, horse and dog names. There is a NEW way to get these characters to display! Below is a list of "Horseland Special Character Codes"


To get a heart (♥) type: *hearts*
To get a clubs (♣) type: *clubs*
To get a spades (♠) type: *spades*
To get a diamonds (♦) type: *diams*

The game will turn these into the correct characters. We ♥ ♥s, too.

Please let us know if you have any questions!
♥ Horseland Staff