Updates
May 13, 2017 - Real life update: In between semesters at the moment. Had a scare with pathology where I thought I'd fail, but I passed! I had a good grade in pathology, but I was certain I bombed the final that was worth 35% of my grade. My worst GPA, but it's still decent. Made out with a 3.0 this semester. I wanted a little bit of a break, but between my two jobs I won't have a single day off and I go back to school on the 19th. Other than that, not much going on. My husband and I went to a 3 day rock concert this past weekend and it was AWESOME. Top 5 favorites were definitely Volbeat, Papa Roach, A Perfect Circle, A7X, and IPrevail. There was this little band from Sweden I've never heard of called Royal Republic, and they were AMAZING. Anyways...I'm more of a country music fan, but my husband is a die hard rock/metal fan.

HL has been slow for me. I kind of dropped off the training map when I started studying for finals. Just now getting back into it, everyone is behind on their goals. I'm SORRY Lyn and HLCA! ya'll are great for being so understanding at how long training is taking me. Love you both!

March 19, 2017 - It's been a while since I've done an update. In HL life, things are going great. Chessies will make it to 1 mill again, and I got one of Ice's pup to 1 mill too :D I can't wait til she logs on for that surprise. I've been trying to keep training up, but it's been incredibly slow going because life keeps making demands on me. Thanks to Lyn and HCLA for being super patient with me! In real life news, I'm doing well in school still. We started seeing patients in clinic which has added a ton of new stress because we have quota, points, insane amount of paperwork, and I'm in charge of keeping my own schedule full. And that's on top of my academic classes which are extremely difficult (in particular oral pathology and pharmacology). That's really about it! My life is basically school and work.
Notes To Self
ended shows on spare 35
ended votes on spare 59
Trading training tickets with Dragon for pics. Pics ordered for:
Black Gold
, Chauvinist, Inconsolable, Treasure Map,
2 AMH's
, and
2 Chessies: Color Me Gone and Speak of the Devil
and
retirement layout
I owe dragon training tickets. 2000 for pictures, 500 for eventing.
1000 for non coded
donating 2000 training tickets in May, 25k coins, and 3000 feed servings to HRC raffle
About Me
Not too much to know about me. People in real life know me as Caitlin or Cait. I'm in my late twenties. I work two jobs, one part time at a grocery store and the other at a dental office as a dental assistant and receptionist. I'm also in school full time for dental hygiene. I just finished my first semester in December 2016, and I should graduate in May 2018. I'm on HL time (Eastern USA). I'm pretty friendly and don't mind helping out in anything that you need. I don't accept random friend requests, if you want to be friends feel free to strike up a conversation.
Hanoverians - Nashville Line
Currently on the 8th generation
Started in May 2014 when I first came back to this game. I've always bred Hanos on HL. All point goals are 750k+, but go to 1 mill whenever I have the time.
Name Inspiration: Songs from the show Nashville
1a.
Casino
x 1a.
Black Roses
:: 1b.
Pieces
x 1b.
Hypnotizing
:: 1c.
Consider
x 1c.
Gin
:: 1d.
Fade
X 1d.
Town
2a.
Done Running
x 2b.
Already Gone
:: 2c.
Sideshow
x 2c.
Wrong Song
:: 2d.
This Time
x 2d.
Trouble Is
3a.
Buried Under
x 3a.
Undermine
:: 3b.
Matchbox Blues
x 3b.
Stronger
::3c.
Ghost Town
x 3c.
Lately
:: 3d.
Red Flag
X 3d.
Bitter Memory
4a.
Breathe In
x 4b.
Spinning Revolver
:: 4c.
Can't Help My Heart
x 4d.
On a Rail
5a.
Broken Song
x 5d.
The Real Thing
6a.
Lonesome Fugitive
x 6a.
Only Tennessee
7a.
Twist of Barbwire
x 7a.
One by One
8a.
Swept Away
x 8a.
The Rubble
8b.
Keep Coming Back
x 8b.
Speak To Me
9a.
Wide Open
x 9b.
Sanctuary
Hanoverians - Botanical Line
Currently on 7th generation
Inherited these from Alice probably around August 2016. They are not my main line, although they may be incorporated into it someday. Goal 500k+.
Name Inspiration: Stallion - trees, Mare - flowers.
1a.
Begonie
x 1a.
Holunder
:: 1b.
Dahlie
x 1b.
Ulme
2a.
Alder
x 2a.
Dahlia
3a.
Ash
x 3a.
Arnica
4a.
Miro
x 4a.
Baby's Breath
5a.
Aspen
x 5a.
Alstroemeria
6a.
Hemlock
x 6a.
Peony
6b.
Soul Survivor
x 6b.
Caged Bird
7a.
Hickory
x 7b.
Amaryllis
American Miniature Horses
First generation
Started in Sept 2016 with Epride. She posted in the forums that she was looking to share a line with someone and I just had to jump on the chance. Goal 1 mill+. Highest mini is 2.6 mill and we'd eventually like to exceed that!
1a.
Mendeleev (trained by freska)
x 1a.
Chemistry Nerd (trained by E_pride)
2a.
Stoichiometry (trained by E_Pride)
x 2a.
Conversion Factor
(trained by freska)
Chesapeake Bay Retrievers
11th Generation
Started in May 2014. I was inspired to train Chessies because my real life crazy dog is a Chessie. She is the most loving, smart, headstrong, and quirky dog I have ever met. I have fallen in love with the breed. Goal 750k+.
I have trained SIX 1 mill dogs in this line!! WHAAAAT? :D
1a.
Break a Leg
x 1a.
Shoo Dog Git
1b.
Day Off
x 1b.
Shaken Not Stirred
2a.
Beautiful ...
x 2a.
Three Pete
3a.
Catch n' Release
x 3a.
Blushing Bride
4a.
Contractor's Liability
x 4a.
Everlasting Light
5a.
Wingman
x 5a.
Chanel No. 5
6a.
Thunder & Lightning
x 6a.
Balew Bayou
7a.
Hurricane Alley (1 mill pts!)
x 7a.
Rolling Dice
8a.
Lily of the Nile (1 mill pts!)
x 8a.
Make Me Famous (1.15 mill pts!)
9a.
Home of the Brave (1 mill pts!)
x 9a.
Carbon Copy
10a.
Eight Second Ride (1 mill!)
x 10a.
Sweet Carolina (1 mill!)
11a.
Color Me Gone
x 11a. Speak of the Devil
The Vizslas
4th Generation
Started in June or July 2016, I can't remember exactly when. They are in honor of my husband's uncle who died suddenly when he fell off of a ladder while pruning his trees. He was well loved, and such an amazing man/inspiration. I know it's weird to make a line after his memory, but Vizslas were his favorite breed. He had a couple as his hunting dogs and he loved them dearly. Name inspirations are songs by the band Rush, because Rush was his favorite band.
1a.
Lakeside Park
x 1a.
Circumstances
2a.
Limelight
x 2a.
Tom Sawyer
3a.
Jacob's Ladder
x 3a.
Finding My Way
4a.
Lock and Key
x 4a.
Vital Signs
Ice Stable's Pointers
I'm babysitting three lines of Ice's pointers. Her Golden line, her Condescending line, and her Backstreet Boy Line. Just doing it because Ice is the best, and we can't let her lines end ever!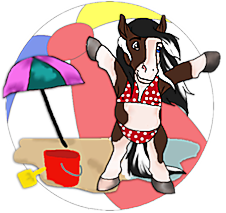 Show Pro // Eventing Club // Retirement

Cactus // DCIII // Dragon // E_pride // Eyre // Flash // Ice // Lynelle // Whim
Voting
Open
Pricing
50 votes - 5k
100 votes - 10k
200 votes - 25k
400 votes - 50k
Anything under 100 votes is 100c per votes, if you want anything over 100 you must buy them at the full package. Votes are exclusive.
1. Dragon - TV - 50/50 Jumpers - V# 13-62
50/50 Teke - V# 13-62
50/50 Steeple - V# 13-62
2. DC - TV - 50/50 XC - V# 13-62
Note to self: put name on ballot for Appy, Dressage, Event, Hano, HRC, H/J, Jockey, Morgan, Trake, Western
Point Training
Open
50k points - 6k coins
100k points - 12k
150k points - 18k
200k points - 24k
500k point - 60k
1. Lyn - 49000/300000 - Grey Skies - price 27k
2. HLCA - Jubilee - 0/300000 - price 36k
Training 2 of Topi's dogs to 100k - price 15k total
Ticket Training
Open
30c per ticket - must message me to order. I usually keep for myself so if you don't message me to order them I won't accept your requests. I will take whatever orders you would like. I have done up to 10k orders before. Only one spot open at a time.
1. open